Pretoria's 'bird-lady', Emsie Mohr of Wings in Need has devoted her life to the well-being of birds.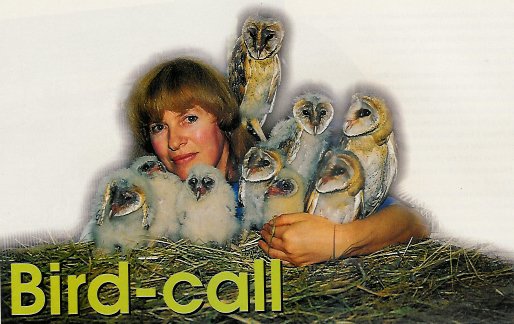 On call 24 hours a day, Emsie Mohr is known far and wide for her dedication to saving injured and orphaned wild birds. Nothing too big or small to be turned away, and every effort is made to rehabilitate the birds and return them to the wild through the organization Wings in Need. What drives the 'bird-lady' of Pretoria to devote her life to saving those less fortunate? Wings in Need opened its doors to Lynne Altenroxel to find the answers.
Christmas day at the Wings in Need wild bird rehabilitation centre in Pretoria will start the same way as any other – at around 4.00am.
It is at this unearthly hour that Emsie Mohr starts her work at her home in Pretoria, a home which has been converted into a sanctuary for sick, injured and orphaned wild birds. Birds are constantly arriving, one after the other. No sooner has Emsie finished rubbing ointment into the strained joint of of a crested barbet, than three primary school children arrive bearing a donation of R300.00 for the organisation.
"My friends know not to call me on my birthday or for Christmas," explains the woman who has sacrificed what could have been a relatively carefree existence to help wild birds. She and her husband, Philip, have been involved in charity work for most of their married life, and both work hard to keep the centre going.
The couple recently took out a second bond on their house in order to finance construction of a specially designed bird hospital, and while Emsie and three full-time workers work from early morning until late at night with the patients, Philip works long hours to make extra money and help keep the centre going.
At any give time, about 300 birds are recuperating in the bird hospital, and this number increases over the Christmas season following spring's population explosion and Gauteng's summer storms. Understandably, it usually comes as a surprise to most people to discover that Emsie Mohr is also a cat lover and not the bird fanatic she appears to be at fist glance.
"The bird is thing is not a hobby or a huge fascination with birds," she says. "I do this because wild birds, like any other animals, have a nervous system and also experience pain and happiness. Moreover, there is a crying need for this type of service." This is borne out by the dozens of phone calls and large numbers of birds received every day from Pretoria and further afield.
For obvious reason no cats are to be found in the Mohr's household. The cherished felines which once lived there are long gone and remembered by mounted photographs. But even these have been temporarily removed from the wall after Lucas the resident owl, discovered their convenience as a comfortable perch.
"When Philip and I got married we were a little disgusted by the lifestyle of some of the young people we knew," Emsie explains. "We both agreed that having a smart car as soon as possible wasn't what we were after. And he approved of me getting involved in charity work. When we got to Pretoria, I was looking forward to a very comfortable life here after dealing with stray cat problems in Stellenbosch. But here another problem awaited me – wild birds in need."
Emsie's involvement with birds started when she was working with disabled children at the Pretoria SPCA. People were constantly bringing injured birds to the society and she offered to take them…well, under her wing.
"But that was about one bird every two weeks." She is quick to point out the difference.
Her fame as the bird-lady spread fast as more birds of all shapes and sizes were brought in. These days it is her full-time (unpaid) occupation. At Wings in Need it does not matter if it is a common pigeon or a rare bird of prey in need of help; nothing is turned away. Emsie has on occasion even raised bats – "They're also 'wings in need'!"
And so the steady influx of birds continues. Providing a 24-hour service requires hard work and discipline and would not have been possible without the assistance and dedicated vet, and a wide circle of foster parents who help release the birds all around Pretoria in greenbelt and other areas.
Apart from finding time to write poetry, articles about birds and philosophy, and preparing a newsletter, she still hopes to someday to do a Masters degree in psychology on human/animal relationships. But for the time being, like most animal welfare organisations, she is bracing herself for the busy festive season.
"Two years ago a man brought in a Hadeda with broken legs on Christmas Day," she says. "Its legs were just dangling underneath it and it has no chance of rehabilitation. My Christmas lunch hour was devoted to euthanasing the bird. It was a very sad moment for me. And last Christmas I had to put down a bird with a severe back injury. It saddened me, because it was Christmas morning and I want to see all birds healthy and happy."
Any birds, from chicks that fall out of their nests (right) to injured birds (far right), find sanctuary at Wings in Need.

Mousebird feeding a Weaver chick at Wings in Need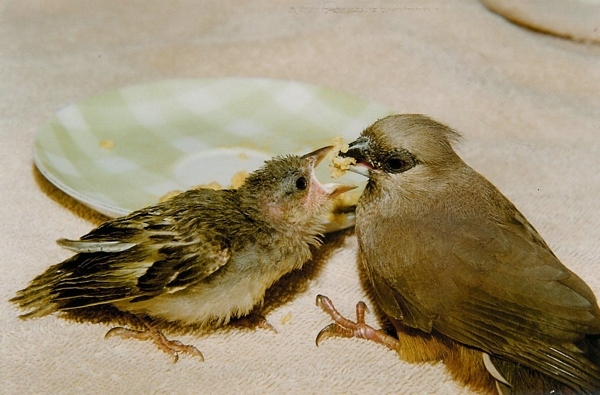 Published by Animal Talk
January 1997 Vol 3